If you are a male using Tinder, Bumble, Happn or any other swipe app, there's a good chance that someone is swiping left on you right now. One big reason for that is bad profile photos, but we'll get to that on another day. Even if you've got good photos, writing a garbage profile will still sink you faster than an iceberg in a James Cameron movie. The best, and most entertaining, way to show you what to write on Tinder profiles or any other swipe app profile is to head out into the wild and look at what everyone else is doing wrong. The profiles that you are about to see are all real. I gathered them up in less than an hour and each of them represents very common mistakes that you are probably making with your own profile. All faces, names, and locations have been covered to protect the identities of our victims examples.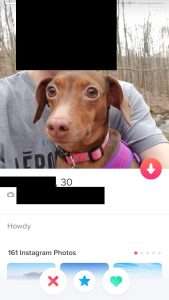 1. The First Rule Of Tinder Profiles Is "Don't Forget To Write A Tinder Profile!"
The only challenge that I had when it came to finding bad examples of Tinder profiles for men was that more than 50% of the guys on the app have left their profiles blank. Just saying "howdy" isn't enough either. You don't have to write a paragraph, just a couple of sentences to let the women on the app know that you aren't just another illiterate shirtless bathroom selfie in search of a fling. If you aren't sure what to write, I can help.
2. Keep It Positive!
The purpose of your profile isn't to give a biting critique of the system or to vent your frustrations. If that's how you use it, why would you expect anyone to swipe right on you? Here's the funny thing, for every misleading pic or cat lady that you've had to deal with, most women on swipe apps have dealt with 10x that amount of guys asking if she's "DTF" or sending her pics of their junk. Take a step back and think about why you are acting so negatively. If you can't think of anything positive to say about yourself or what you are looking for, it might be time to disconnect for a while and give Tinder a break.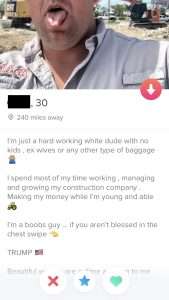 3. Don't be a D-Bag
This seems like it should be common sense, but a lot of times what we think is clever is just us sounding like a douche. If you look at this guy, he probably thinks he's just getting right to the point. I'm not talking about him saying he has no baggage (which means he's got more than the average Kardashian), or the fact that he feels the need to mention that he's white and loves Trump. Politics and race don't make you a douche. Telling women not to swipe if they don't have big breasts does. Telling women how you want their bodies to look is a serious turn-off, even for the women who fit your desired specs. To them, you just look like a superficial jerk who is really only interested in getting laid. On Tinder, you don't really have to talk about what you are looking for. Just focus on who you are and it will help attract the right type of people.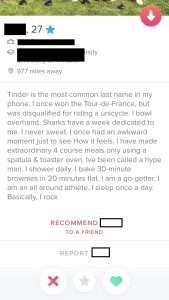 Don't Steal Other People's Words
Chances are you are not as clever as you think. That google search you did for interesting quotes about the "most interesting man in the world," or "20 things to say in your Tinder Profile if you want to get laid tonight!" has been done by 100,000 other guys who thought they were equally clever. Women see so many of these profiles that they recognize when someone is just copying and pasting something they didn't write themselves. You just end up with a profile that feels fake and doesn't attract anyone with half a brain. You don't need to write more than a couple sentences, but it does have to be from you. Just give a quick anecdote or funny confession that gives them a little insight into your real personality and you'll get a lot more right swipes.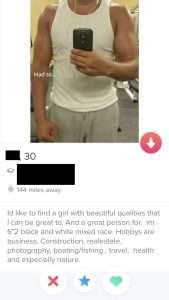 Proofread Your Profile!
It doesn't matter whether you wrote one word or one thousand words. If it's full of stupid errors, you are screwed. Make sure you read over your profile before you post it. If you aren't confident in your spelling and grammar skills, there are several great online spellchecks you can use. You don't want to lose out on someone because your sloppiness makes you look less intelligent than your competition. A sloppy profile is like showing up on a date in ratty shoes. Even if she doesn't say anything, she noticed, and not in a good way.
This is just the first of several articles I'll be writing about how to succeed on Tinder, but if you follow these five Tinder profile tips, you'll be in much better shape than most of your fellow swipers. If you are looking for an extra edge to take you to the next level, we have services designed specifically to help write profiles and review photos for dating apps like Tinder, Bumble, Happn, and CMB. You can check them out on our services page, or just give me a call on our toll-free number (888-447-7634) for a free, fifteen-minute consultation!