Online dating is a completely different experience for men and women. Men fail for reasons like selling themselves too hard, focusing entirely on looks, and thinking they can get away sending the same email to 20 women a day. Meanwhile, women are making completely different mistakes but ending up in the same place. Women have a tremendous amount of power when it comes to finding love on sites like Match.com, eHarmony, OKCupid, POF, or any of the thousands of dating sites out there, but many of them end up quitting because they feel powerless when it comes to finding the right match. Here are five of the biggest mistakes women make in online dating and how you can avoid making them yourself.
1. You've Given All The Power To The Men
One of the most common complaints that I hear from my female online dating clients is that their old profiles attract the wrong types of people. If this is your main concern, you've already given up all the power when it comes to your online dating success. When you put all your focus on who is reaching out to you, it means that you aren't putting enough focus on reaching out to men that you find interesting and attractive. If all of your energy is wasted on being found, your best outcome is to be able to choose the best from whatever happens to find you. You deserve better than that.
2. You're Fishing In The Wrong Pond
Unless you are dealing with a very specific dating site like Christianmingle, Ourtime, or Mousemingle (The #1 dating site for Disney fans), all dating sites and apps can look alike. Unfortunately, they are all very different, and they attract people with very different types of agendas. I often speak to female clients who aren't finding the right men because they are looking in the wrong place. No matter how much you emphasize that you're looking for a serious relationship on Tinder, Bumble, or any swipe app, the chances of finding someone else with the same goal is very slim. Swipe apps are designed for extremely superficial attraction and casual connections. On the other end of that, there's eHarmony. It is more of a matrimonial site than a dating site. Also, it uses the gimmick of restricting your options because they've scientifically proven that you'll settle for something when given fewer choices. Those are just a couple of examples. I'll go into this in much more detail in an upcoming post.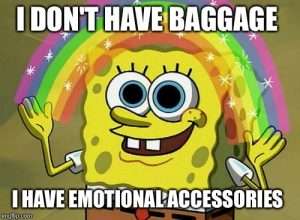 3. You're Giving Away Too Little/ Too Much Information About Yourself In Your Profile
I've probably read over a quarter million online dating profiles since I've started helping people. Men have a habit of getting into 'sales' mode in their profile. They want to convince you of all the reasons that you should love them. Meanwhile, women often make the mistake of giving too little or too much information in their profiles. If your profile is too short and vague, it sends the message that you are either not serious about meeting someone or that you might not even be a real person. On the flipside of the coin, it's possible to say too much. Your profile doesn't need to be your life story. Don't make it a laundry list of the things you aren't looking for in a partner. Also, don't waste space with defensive statements like: "I don't have any baggage and I'm not looking for anyone who does". That amount of over-sharing and negativity can turn off even the most compatible match. Instead, keep it positive and just talk about who you are and what you are looking for in a partner. Make sure that you don't just list adjectives. Give everything context, and don't be afraid to share an anecdote or two. Doing that will usually say more about you than a list of qualities ever will.
4. You Aren't Focusing Enough On What They Want
This is one mistake for which both men and women are equally guilty. We are so focused on who we want, that we often don't make a real effort to look and see if we are what the other person is looking for. Most of the time, we either fire off a "like" or a short message and we figure we've got nothing to lose because it's just a little email. The problem is that this leads to rejections that could have been easily avoided and bad dates that should never have happened. Both of those scenarios eat away are your emotional stamina and likely cause you to quit before you ever meet the right person.
5. You're Making Your Photos Too Important
I've had a lot of women tell me that great photos can make up for any flaws in their profile. There are a couple problems with that theory. First, 99% of the time, your photos aren't as great as you think they are. Second, and more importantly, do you really want to be picked solely on your looks? If you post too many photos, it usually just makes you look like you are way more into yourself than you could ever be into your match. If you post all your photos with your female friends, you may find that you aren't the focus of attention. Also, if you are taking photos with a camera flash or harsh/dim indoor lighting, you are going to create shadows that will add years (and pounds) to your face and figure. Don't try too hard. Don't get made-up or dressed-up more than you do in your regular life. Don't try to create a fantasy version of yourself.
The good news here is that it is absolutely possible to meet the love of your life through online dating. It is how I met my wife and how many of my my clients have found their happy endings. These tips are a great place to start if dating sites/apps have not been working for you. If you need more help, you can call me (Eric) at 1-888-447-7634, or check out our services to see how we can help you help yourself.