More Online Dating Profile Samples
What To Do & What Not To Do
We went on to Match.com and randomly selected some online dating profiles to show some of the biggest mistakes people make when writing their own profiles. We covered up their photos and names to protect their privacy, but their words are 100% real. Check out how the things you say can be easily mistaken and hurt your chances of attracting a great match!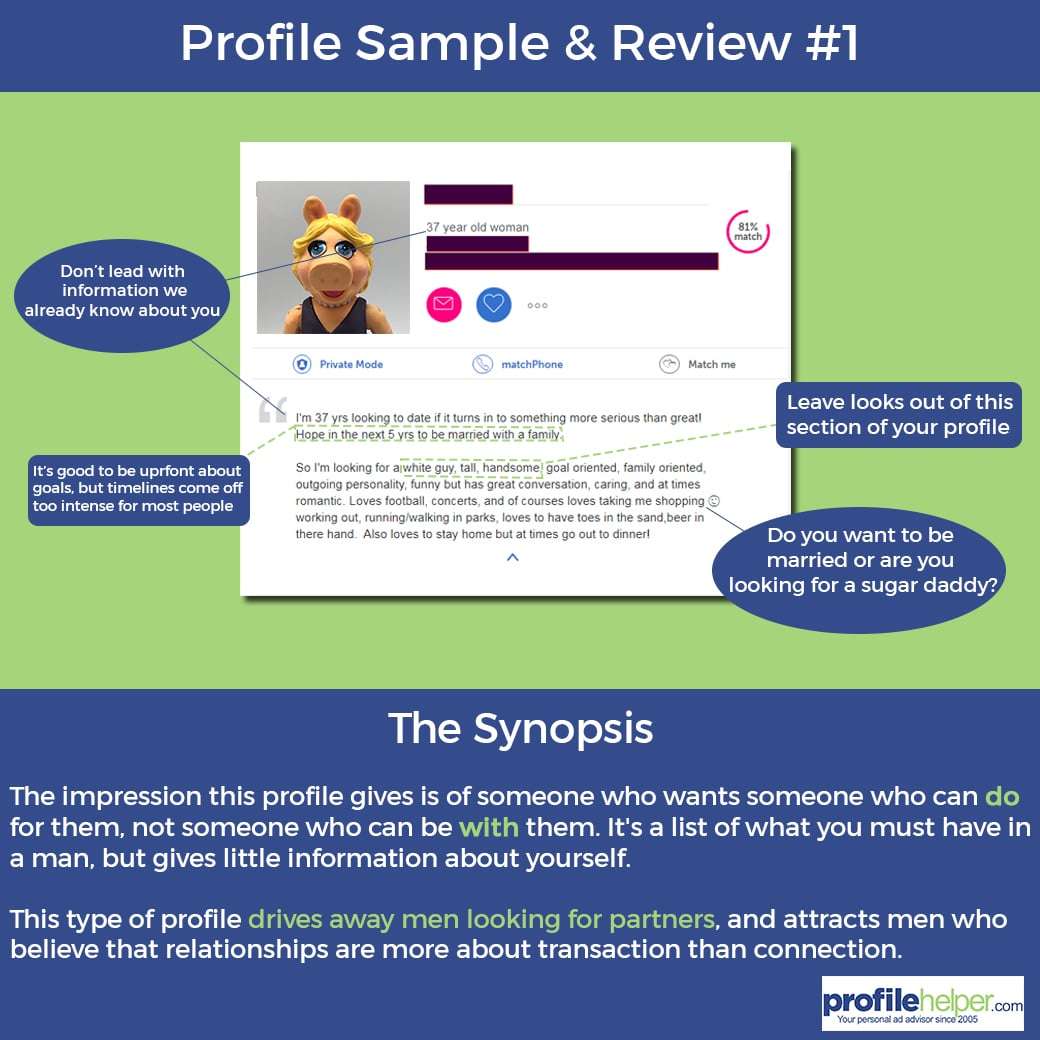 Here's an example of a woman's profile that is sending all the wrong messages.
Are you committing these same mistakes?
Call us today for a free profile consultation and we will rewrite your profile so that you start attracting the right people and going out on meaningful dates with the people that you want to date.
This example of a man's dating profile shows how the lack of unique details in your profile keep you from standing out.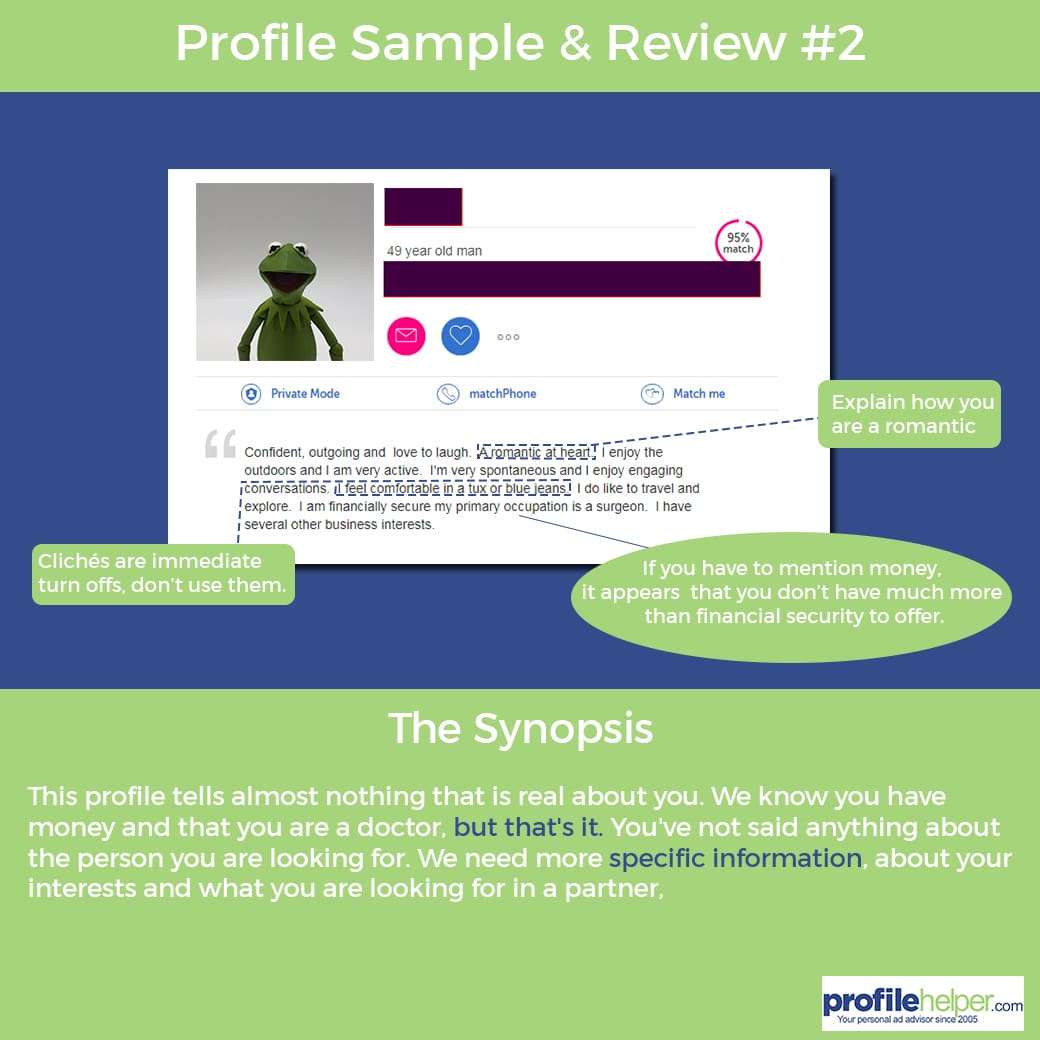 Get Your Profile Makeover!
If you've spent a lot of time on your profile and you're still not creating quality connections it might be time to bring in the experts. We've got years of experience in online dating and have helped 1000's of men and women find meaningful relationships by updating their profiles.
More Dating Profile Reviews
Professional Dating Profile Creation from ProfileHelper
This profile resulted in dozens of responses for and more importantly, many great dates with people that actually matched the dater's wants.
"Let's get lost together."
Every day I wake up thrilled that people pay me to do the thing I love. Writing fits really well with my easygoing attitude and gives me the flexibility to do what I want. So what do I do when I am not working on the next great American work of literature? Well, Rock climbing is one of my greatest thrills it gives me the feeling of working with nature to push myself beyond my limits. I also love just taking off in the car and going exploring. Unfortunately, I am an awful navigator, but that leads to all sorts of adventures. I guess my life is kind of like an episode of the Muppet show and I would be gonzo: always on a new quest, pushing my imagination to the limits, and occasionally walking into things.
If your favorite Muppet is Miss Piggy, there is a good chance that we just won't get along. Don't take that the wrong way; she just really annoys me. I guess the woman that I am looking for is somewhere between a thrill-seeker and a couch potato. She isn't afraid to scale a rock face with me, won't get aggravated when I lead us 200 miles in the wrong direction, and will laugh when I say something unintentionally stupid. There was a time when I used to volunteer with the community. Somehow I fell out of it so it would be great to meet someone who does volunteer work to help me get back into it. At the end of the day, I am just hoping to meet a girl who can discuss the world around her, is looking for more than just a date, and will cuddle on the couch and laugh at old Muppet DVDs with me. Will you be my partner in crime? If the answer is yes then send me an email and let's get lost together.
Get A Dating Profile Makeover
Here is a profile before the ProfileHelper Advisors gave it an extreme makeover:
I need to meet someone who will introduce me to new things, adore (or put up with) my wacky moods and keep me in line. Very important: a guy who's profile does not include a shirtless photo or a photo of him with his car. Not my type. I am looking for a man that is confident. I'm looking for a guy who likes to plays but can keep it real. Not a player. I'm looking for a man that is intelligent, funny, handsome, patient, responsible, loyal and that makes me feel safe. I like a guy that will surprise me every now and then. A man that will support me, yet still tell me if I'm wrong and will want me to do the same for him.
After the ProfileHelper Advisors renovated this profile, our client started getting emails from potential matches within days. Here is the finished profile:
Somewhere out there is a great guy who will not only want to introduce me to new things, but will also like to try some adventures that are new to both of us. He will not only put up with my wacky moods, but he may even think they are cute, (even if he won't admit it.) The man I would like to meet is confident and self-assured, but isn't cocky with an over-inflated ego. I am looking for a guy who can keep me on my toes both when it comes to intellect and energy. There is nothing that I won't do to support the people I care about, but if I think you are wrong I will tell you and I hope that you would do the same for me. Are you a man who is filled with surprises? When you hold me in your arms, are you the type of man that will make me feel safe and warm? Have you made it all the way to the end of my profile? Then what are you waiting for? Drop me a line and let's plan our next adventure.
Jim's ProfileHelper.com Profile:
I have 3 kids who are with me half of the time and I love every minute I get to spend with them. We're a Christian family and active in our church. My family and friends are important to me and we spend a lot of time with them. We have a camper that the kids and I love to use as much as possible, and are looking forward to the spring! Hiking, fishing, and hanging out by the campfire can't come soon enough. I've got a reputation for having some of the best BBQ feasts and they always draw a big crowd of friends for food, refreshments, and great conversation by the pool. Beyond that, I love the symphony, exploring museums, and quiet nights eating popcorn and watching a good movie.
I am looking for the girl that I can get lost in conversation with just as easily as we can share one of those moments of comfortable silence in each other's arms. I love to laugh and joke around. My job is awesome, but I know when I come home that this is where my priorities and true happiness are. I want to share both our passions, some of mine, some of yours, some new ones we find together. If you are Christian, enjoy children, and enjoy the outdoors, we already have a lot in common. One of my favorite Psalms has a verse that says " Delight yourself in the lord and he shall give you the desires of your heart". I am hoping that together we can live that verse well into our golden years.
Jamie's ProfileHelper.com Profile:
"Last one to the bottom buys the cocoa!"
A former corporate gladiator, my smile is most easily found with the wind whizzing past me as I take to the slopes or my bike, or in the hopeful faces of the children I give my time to. I guess you could say that I like a good challenge whether that means sports, renovating an old house, or finding a new way to better myself through experiences, but I am laid back enough that I realize that you have to enjoy every second that you have.
The man I'm hoping to meet has a laid back attitude but is active and athletic enough to keep up and maybe even give me a run for my money. That kind of balance along with the positive energy that he surrounds himself with will supply us with endless laughs, adventures, and opportunities to broaden our horizons. Our personalities will compliment each other in a way that makes every pothole a little smoother and every black diamond a little sweeter. If this sounds like you, then send me a note. Last one to the bottom of the mountain buys the cocoa!
get our quick tips for online dating success
sign up for your FREE copy of our ebook!
we've helped over 25,000 single men and women
get better dates & find loving relationships
Let us help you meet that special someone. Our expert online dating coaches will work with you to create a unique, personalized online dating profile that will attract the right match for you.