Over the last few years, more than 30 states around the US have legalized smoking marijuana for either medicinal or recreational use. This has helped reduce the social stigma around pot use and bring it into the mainstream. So, how do you address this on your dating profile?
Until recently, most online dating sites banned even the mention of drug use in online dating profiles. Sure, you could slip in a comment about being '420 friendly' or that you're down with '420 singles' without them dropping the ban hammer on you, but that would still usually get you labeled as a stoner by most prospective matches. 
While some of that social stigma exists, more and more people are accepting of the fact that some people smoke weed for anything from help with anxiety to just relaxing at the end of the day. 
Match.com Acknowledges Cannabis Use as a Compatibility Factor
Now, Match.com has just taken the major step of adding a profile question to their app about marijuana. 
Match isn't the first major online dating site to include drugs in their profiles or search options. POF has had a question about them for years, but it is vague and not useful at all. It just asks members if they "do drugs" socially, often, or never. 
It doesn't discriminate between marijuana and cocaine, or any of the other drugs that could be included. 
On their search tool, it gives you the option to select people by their level of general drug-use or to just select that you are fine with any level: 

In just the last few days, Match.com has embraced the reality that nearly one-quarter of Americans smoke pot and even more have an interest in knowing if the person they could end up dating enjoys the occasional toke. They've made it ok to admit you smoke weed so it allows you to meet locals who are also cannabis users.
After years of threatening members with being banned from the site for bringing it up in their profiles, Match has added options to include your own smoking habits in your profile and to search for users by their marijuana usage habits. 
On your Match dating profile you can now share your views on marijuana use by either selecting "420 friendly", "not for me", or "no answer".

The new question is an important one, but the meanings of these answers are still up for some debate. 
"420 friendly"  You could choose this if you either smoke pot or are OK with the idea of dating weed smokers. 

"Not for me" could either mean that you are against the idea of being someone who smokes pot, or you are cannabis friendly, but just don't smoke it yourself. 

"No answer" just means that the question is not important to you. 
Just adding in the profile question is a big step for Match owed in big part to the shifting landscape of the United States and their ideals regarding becoming a cannabis consumer. But we're hoping Match will eventually give options with a little more clarity. 
When you are searching for potential dates on Match, the marijuana question is located in the Healthy Habits tab of the Lifestyle section of the dating website: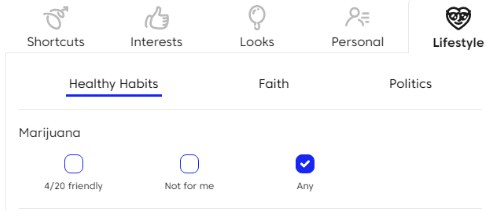 The options you choose here are a little more straight-forward. If you want to date a pot-smoker, choose "420 friendly". If you don't, choose "Not for me". And, if you don't care, just leave it blank or select  "Any".
Profile Tips
It's one thing to check a box saying that you are 4/20 friendly, but deciding whether or not to bring up marijuana, or any other drug, when you are writing your online dating profile is a little more complicated. 
Occasional Marijuana Smokers
If you enjoy the occasional joint or edible, there's no real reason to bring it up in your profile. The new search and profile options help you let people know your feelings on the matter without making a big deal about it. 
Regular Marijuana Users
If "wake and bake" is your motto and you partake in marijuana several times a week for recreational purposes, it is definitely a good idea to mention it in your profile. 
You want to do this because it not only helps attract the right people, but it helps scare off the people who disagree with your lifestyle. It doesn't require more than a small mention in one sentence. 
Anything more than that and you'll give the impression that your marijuana use might be a distractingly large part of your life. 
Medicinal Marijuana Smokers
There's no reason that you have to include this in your profile. Checking the box that says you are 4/20 friendly should be more than enough. 
If you aren't sure how to bring up your personal smoking habits, or any other tricky topics in your profile, we can help you with our online dating profile writing services. You can also call us toll-free at 888-447-7634.
Photo Tips
There's really only one tip when it comes to marijuana use and the photos for your dating profile. Your photos should neither show you actively smoking, feature you with any drugs or smoking paraphernalia, or show you in a state where you appear to be stoned. 
Despite the fact that marijuana usage has become more acceptable in society, posting photos like this can give the impression that you have poor judgment and impulse control. Also, once you post a photo online, you never know where it could end up. 
The last thing you want is a prospective employer judging you because a photo of you taking a bong hit or looking higher than Jim Brewer in Haf-Baked pops up when they Google you before an interview. 
Update Your Profile
Dating sites are constantly adding and removing questions from their profiles to improve the experience for their users. 
Along with the recent addition of marijuana to the Match.com profile, the site has also changed their options for body type no less than six times in the last three months in an effort to find a set of adjectives that feels more inclusive and does not offend anyone.  
If you don't update online dating profile every so often, you will miss out on the singles who are searching by the newer criteria. Also, your profile will look dated when potential mates see that your profile still has options that haven't been offered on the site for more than a year. 
Also, when you're checking for new questions, be sure to look over your online dating profile text to make sure it is up to date and fresh. Talking about your recent trip to the beach might have been great in July, but when people see it on your profile in December, it makes you seem stale. 
If you need help freshening it up, we've been helping singles write great dating profiles for the last fifteen years.