Yesterday we talked about the difference between traditional dating sites and the growing trend of "swipe" dating apps. Today we are going to go over the differences between free online dating sites and apps and their paid counterparts. The biggest dating site in the world, POF, is a free dating site, but that doesn't mean that it is the best one for you. That said, depending on the type of relationship you are looking for, eHarmony, one of the more expensive paid dating sites might not be the best choice for you either.
Customer Service At Free And Paid Online Dating Sites
Good customer service is really important on online dating sites. Sadly, there aren't any large dating sites or apps that really excel at it. That said, paid dating sites tend to have much better customer service departments. Messages are responded to more quickly and the member base is better policed to catch scammers or anyone else who might be breaking the site's terms of service.
User Behavior Between Free vs Paid Online Dating Sites
Free
The average online dater is well behaved, but a lot of the worst actors tend to call free dating sites their home. Some of the worst behavior I have witnessed on free dating sites includes an increased number of fake profiles (created by scammers, not by the site), inappropriate profile photos, aggressive messaging, and lower quality profiles. There are a couple reasons for this, but the two main reasons seem to be that poor policing of the site fails to knock the worst of the worst off its ranks and the fact that people on free dating sites and apps tend to a have a less serious goal than the singles on paid dating sites.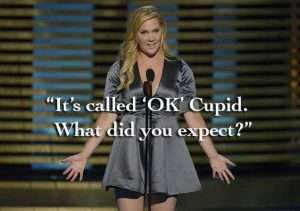 Paid
There are going to be some jerks and scammers on every site but paid dating sites tend to do a much better job of catching them and kicking them off the platform. After all, if you quit the site because it's full of idiots, the dating site can't make any money off of you! You should also find that the quality of the messages you get from other members is higher than that on free sites. One of the benefits of being a paid site is that it tends to attract people who are a bit more serious about finding a relationship.
Is Free Really Free?
Paid
Paid dating sites like Match.com, eHarmony, Zoosk, Christianmingle, Ourtime, and others are pretty straightforward in their pricing. Depending on the site, it can cost you between $10-$40 a month to be on a paid site. The sites will also usually offer you a few added bells and whistles for a small fee. Most of those bells and whistles aren't worth it. Also, every site offers discounts and perks based on how many months you are willing to subscribe to upfront. Be sure to look at the strings that come with those perks, because some of them can actually make it harder to meet someone.
Free
Free dating sites like POF and OKCupid as well as dating apps like Tinder, Bumble, and Coffee Meets Bagel all advertise a cost-free experience, but they all provide special perks that are only available for members who are willing to pay. With sites like POF or OKCupid, that could mean a monthly subscription rate to get access to features like expanded search criteria or the ability to see whether someone has read your messages. For the apps, the perks come in the form of micro-transactions that allow you to see more singles, recover profiles that you've already rejected, or make your profile pop-up higher on other people's lists. Be very careful when it comes to micro-transactions. They are small enough that they become mindless impulse purchases, but they can add up very quickly if you aren't careful.
Are Paid Dating Sites worth The Money?
The answer to that question depends on your reason for using an online dating site or dating app. If you are just looking to dip your toe in the water and meet some new people, you should be fine on a free dating site, but if you are looking for a serious relationship, that might not be enough. The chances of you finding someone for a relationship on a site that's filled with people just looking for a date are pretty slim. You will be much better off on a site or app that has people with the same goals as you and that has a small fee that keeps a lot of the casual daters at bay.
Regardless of whether you use a free dating app like Tinder or a paid dating site like Match.com, I'm here to help make sure you succeed. If you need help deciding which online dating service is right for you, or you need help making sure that you have the best profile and photos when you join, give me a call (Eric) at 1-888-447-7634, or check out our services to see how we can help you take control of your online dating life.