In the first part of this blog post, we did a random search on POF and picked the first 12 guys so that we could see what works and what doesn't in profiles. We looked at each of their primary dating photos and went through what worked and what didn't. Now we are going to go deep into their profiles and I'll give you the same dating profile examples and writing advice that I would give any of them if they asked for it. If you haven't read part one, you can check it out HERE.
What you are about to see is why services like mine exist. Of the 12 profiles that I picked at random, none of them were great. None of them were even good. In fact, some of them were horrible. Before you post a profile on POF or any other dating site, Look at everything these guys are doing wrong and my dating profile examples and writing tips on what they could do to improve their online dating success and get more dates with the type of women they actually want to meet.
Our Top Dating Profile Examples: What Works and What Doesn't
Dating Profile Example #1
Headline: I'm the Clyde to your Bonni, let's ride!
Profile Text:
currently residing in XXXXXXX. 5'7 Honest, Mature, down to earth with manners, respectful, common sense. Tattooed Gentleman. Single Father, No games/drama. I love coaching youth sports and being active, love movies, music, reading! Pet Lover, Blue Collar Man that enjoys the simple things in life as well as a hopeless romantic. Open to Dating/Friends/LTR/something Real! Living 4 today because tomorrow's never promised (Fav Movie) A Bronx Tale
Dodgers & Dallas Cowboys
From looking at #1's main photo, one thing is clear. No one is ever going to think that he is as cool as he seems to. This vibe carries through in his headline of "I'm the Clyde to your Bonni, let's ride!" In the scheme of things, this is not the worst headline I've seen. It at least sets a tone. Sadly, he can't seem to spell Bonnie. Spelling is important here. Women will discount profiles for sloppy errors like that. They make you seem careless and lazy. Before you post anything on a dating site, take the text over to Scribens and run it through a quick spelling and grammar check. Now, let's move on to his profile.
I want to start off by giving #1 some credit. It can be very hard for a guy under 5'10" to get a response from someone. Putting your height at the beginning of your profile is something we always recommend for Tinder/ Bumble profiles, but it is a good idea to do it on a site like POF as well. Once we move past how tall he is, we see that #1 has fallen into the same trap as a lot of other online daters. His profile is just a list of things without context. Profiles like this are boring and hard for women to connect to. It is really interesting that he dives right into talking about being honest and mature after using a headline that makes him sound like an outlaw looking for a co-conspirator. This kind of change in tone makes you look fake. You want everything in your profile to lead to the same place. This headline is going one way and then the profile takes off in the opposite direction.
There are some terms here that he should not be using. You are supposed to be Honest, Mature, have manners, be respectful, and common sense. Saying it makes you sound defensive. You also never want to mention anything about game playing or drama. No matter how you reference it, it just makes it sound like you already have too much drama to deal with anyone else's. Everyone has some drama. Anyone who says they have none is lying and anyone who says they don't want any is usually saying it because they can't handle yours.
The big profile tips I'd give to #1 are these:
– Cut down on the number of items in your list, but give them context like you did when you mentioned your favorite movie is A Bronx Tale. He talks about being a pet lover, but he doesn't say anything about his current pet or his favorite childhood pet so that people can feel that he means it. He loves music (who doesn't) but is he listening to Drake, AC/DC, or Brittney Spears? What are some of those simple things in life that he enjoys? If he had just picked 2-3 things and expanded on them, he'd have a profile that would make him feel like a more relatable human.
– Pick a direction. In the same way that his headline says he's an outlaw, his profile says he's a mature single dad with common sense and his primary photo says that he's too cool to be bothered, he's got a line in his profile that turns off most women: "Open to Dating/Friends/LTR/something Real!" Get in your car and try to drive in four directions. You can't. The same is true for dating. You can't really date with mixed intent. If he's dating for something real/ an LTR, dates and friends are going to naturally happen because of it. However, if he advertises that he's looking for all these different levels of a relationship, he is going to make it look like he's not really serious about an LTR, and all of the women wanting a relationship are going to pass him by.
– Tell them what you want! #1 says nothing about the type of woman he's looking for. You need to put something in there that gives people a sense of the personality and character of what you want in a partner. if you don't, it makes you look like you either don't know what you want or you aren't seriously looking for something.

Photos
I've blurred all of the profiles photos on these profiles to protect the daters' privacy as well as avoid posting a couple of NSFW shots on my site. #1 has posted a decent number of photos, but they are not good ones. He's not smiling in nearly any of them – This makes him seem unapproachable. Five out of six photos are selfies – This makes him look narcissistic. Two of his selfies are mirror selfies (including a shirtless flexing pic) – These are never a good idea. In fact, shirtless photos have been directly tied to people getting fewer actual responses because women see you as a joke.
#1 needs to let go of the camera and ask a friend to take some shots. He needs to go outside and leave these poorly-lit photos behind. Take off the sunglasses and smile. Don't try so hard to look cool. It only makes you look like you need to try hard to look cool. There's nothing cool about that.
Dating Profile Example #2
Headline: Hey Positive Attitude, Fun, Hard Working
Profile Text:
I love travel, adventure, learning new things and meeting new people.
Starting with #2's headline, it looks like he might not have even realized that he was writing one. "Hey positive attitude" doesn't actually mean anything. In fact, it looks like he's leading off with a careless error and that will make a lot of women move on before reading anything he has to say. Luckily for them, he didn't actually write that much. #2 has written so little in his profile that it doesn't even make for a good Tinder profile. The good news is that he isn't bragging about things he's already supposed to be (like honest and mature). The bad news is that there's literally nothing for someone to connect within his profile. This tells everyone that he's not really looking for something and they should pass him by unless they just find him attractive.
#2 could actually take what he has and expand on the few things he's written to create a good profile. Where has he traveled and where does he want to travel? What does adventure mean to him? What are some things he's learned recently? He's got the seeds of a good profile here, he just needs to give people more than bullet points.
You can also see that #2 has the same problem as #1 in that he hasn't said anything about the woman he wants to meet. If you don't tell people what you want, you can't complain about getting a bunch of attention from the people you don't want to meet.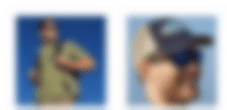 Photos
We've got some serious problems when it comes to #2's dating profile photos. The first big problem is that there are only two photos. If you don't have at least four photos, people will not trust that your profile isn't fake and that you aren't a possible catfisher. The second big problem is that both of #2's photos have him in sunglasses. While he is at least smiling in his pics, the sunglasses create a physical barrier that prevents viewers from being able to develop an attachment. If he wants to improve his online dating success, he needs to get 2-4 more photos. They should not have him in sunglasses, and they should focus on pictures that give a sense of his character.
Dating Profile Example #3
Headline: Hope I'm the one you are looking for
Profile Text:
Traveling
Amusement parks
Going out with friends
Drinks
Dancing
Play pool
Movies
Pretty much up for anything, just want to meet the special woman to do it with
As we take a look at #3's profile, you might be noticing a bit of a pattern developing. That's because a lot of the mistakes that guys make are the same lazy errors. Take a look at the list of generic things that #3 has given us. The only one that says anything specific is that he plays pool. Everything thing else is horribly vague. What kind of movies does he like, Horror, action, comedy, or romcoms? Give us a favorite flick at least. Just add something to give context. When he gets together with friends is it to go bowling or to harass old ladies? We don't know. He likes amusement parks, but does that mean he's more into Disney-style theme parks or ride-driven Six Flags type parks. What's his favorite ride? Is there a park he's always wanted to visit but hasn't been to yet?
Let's also take a look at his headline. Depending on when you were born, you would describe it as either Desperate, Needy, or Thirsty. This is a headline that screams "Please Love Me!!!" It makes him look like he has zero confidence and is looking for someone to complete him and make him feel worthy. You shouldn't be cocky in your profile, but coming off like a complete beta male makes you look like more of a project than a potential date.
Photos
The first thing that we notice with #3's photos is that he is only posting selfies. On the upside, he's not posting 12 of them and coming off like a narcissist, but all selfie profiles make you look like you don't have any friends. Also, selfies just suck as online dating photos. I'm not sure if you can see it, but one of his photos is also sideways. This just looks lazy to women. Before you post your dating profile photos, make sure that they are facing in the right direction. Also, make sure you aren't taking any in the bathroom as this guy did. Make sure to also include a couple of full body shots and not just post headshots where people can't tell your shape. These are all mistakes that #4 is making.
Dating Profile Example #4
Headline: No BBWS
Profile Text: Just know im a gentleman. PERFECT gentleman
I will feed you… Costco samples before dinner so you dont overeat and run up my damn bill.
I will take you on long romantic walks down aisle 7 at Food 4 Less.
I will open your door for you, in the rain, from the inside, after I've gotten in first.
I will gladly pay for your bus fair to ensure you make it home safely. No uber. Too expensive and his car might be nicer than mine.
And I will only send you a d*** pic after you tell me your first name. Common courtesy. Duh.
And I will really tell you about me if you actually care to hold a convo.
And I will really tell you about me if you actually care to hold a convo. It's ok, you can message first to ya'know.
Oh, and yes, those were JOKES. And if none of it made you laugh (I know one of them damn lines was funny) , then get yo serious uptight ass off my page. I ain't got time for no RBF.
Live, Love Life, And most importantly LAUGH!
I had high hopes for #4, based on his search photo on POF, but his dating headline is so bad that I can't imagine anyone reading past it, even if they aren't a BBW. While it is important to be upfront with people in your profile, there's a difference between being upfront and being a jerk. Writing the equivalent of "no fat chicks" at the top of your profile lands you squarely in the jerk category and will scare off even the skinniest of women.
The rest of #4's profile is actually not bad. He takes it in a humorous direction that seems to match his personality, so it doesn't feel forced. This can be a good approach if you are looking to casually date. It is a profile that gives a vibe about you but doesn't give any real information that people looking for something more serious would want to know. With all that said, there are some things I'd do to take this from being an OK profile to a great profile. First, #4 needs to spellcheck this profile. It is full of lazy typos and misspellings. Next, I'd pull a couple of lines that step far enough over the line that they are going to eliminate a lot of the people you'd want. I'm mostly talking about the comment about the dick pic, but I'd also have him temper the language on "then get yo serious uptight ass off my page." I get what he's going for, but it's just that extra step over the edge where he's jumping from funny to A$$hole.
Photos
It's pretty funny that #4 says he doesn't' have time for RBF (Resting B!$#@ Face) at the end of his profile because that's exactly what he's got in every pic where he isn't smiling. I've had many of my African American clients tell me they don't like to smile in their photos because it makes them look soft. It doesn't. Not smiling makes you look angry and like someone people aren't going to be around.
You don't have to smile in every one of your dating profile photos, but you need to smile in a few. #4 does a good job of smiling, but his non-smiling pics need to go. They make him look like he's trying to look tough, not like he actually is. He's also got to lose the Spider-Man meme and the bathroom selfie. We've already talked about why bathroom selfies suck, but you need to be in every photo you post on your dating profile. This isn't your Instagram feed. Posting this photo actually violates POF's terms of service and he can get in trouble for posting copyrighted material.
The last important note on this dating profile examples photos is that they are inconsistent. He's got a bunch of photos where he's got some facial hair and a hat and one where he's clean-shaven and not wearing a hat. The difference between them is so great that they look like two different people. You want people to look at your photos and know what you are going to look like when they meet you. Right now, women looking at #4's profile have no idea what they are in for.
Dating Profile Example #5
Headline: Not all firefighters cheat
Profile Text: …I will start by saying that I am looking for the same thing everyone is looking for…someone to spend time with,make great memories with,and love life to the fullest with..I am very honest ,spontaneous,sarcastic,but so much fun!I don't have any stress or drama in my life,looking for someone to keep up with me. I am not looking for a one night stand so don't bother asking..And I don't play games or chase someone …. If you not interested in dating just one person pass me by!
I go to the gym twice a day and try to eat right ,,,if you made it this far …drop me a line !
I am looking to hang out or date someone in person not just a phone friend so if you don't want to meet up sometime don't
Leave me a message it would be a waste of our time..
Oh and music is a huge part of my life
using a headline that says "not all of us are cheaters" is kind of like saying "Would you like to get in my van, I promise I'm not a murderer," to a woman. It tells her you are probably the exact thing you say that you aren't. There are a million comments he could have made in relation to his job as a firefighter. Almost anything would be better than what he wrote.
This profile is a mess. His lack of spaces between commas, an odd number of punctuation marks in weird places and lack of spaces between certain words make the profile messy to read. If the profile is hard to read, it's going to be equally hard for someone to connect with you through it. I appreciate that he is leading off by saying what he's looking for. It is actually a pretty good idea because it switches up the format from what people are used to. However, he doesn't need to say he's starting out with something. He should just get to the point. He definitely shouldn' not be calling himself "very honest" as it makes him sound like a liar. This is compounded by the fact that he lies in his next sentence when he says "I don't have any stress in my life." Along with the fact that only dead people don't have stress, it's common knowledge that he is in one of the most stressful occupations in the world.
When it comes to intent, it's OK (but unnecessary) that he says he's not looking for one-night stands, but it makes him sound like he has a massive ego when he follows it up by telling you "not to bother" asking. You should also never talk about game playing or chasing people. It just makes you sound bitter. From here, things start to go off the rails. He asks for you to message him twice when you should never ask at all. If you ask, it makes it sound like you have to ask. That means there's something wrong with you or, at the very least, you have no confidence. Like almost every other guy here, #5's online dating profile doesn't actually say anything about the type of woman he wants to meet, just that she should be able to keep up. If I was working with #5 as his dating profile writer, I would focus on why he loves his job as a firefighter, we'd then work on filling out his interests and other unique aspects of his personality with context and then we'd actually define the type of woman he wants instead of just begging anyone that can keep up to send a message.

Photos
#5 has six photos, but he's wearing sunglasses in four of them. The photos where he's not wearing sunglasses are either too dark or too far away for the viewer to get a good look at his face. I'd drop the shirtless photo because they just don't work. I'd also switch up the attire so that he's not wearing tank tops in so many of the photos. His headshots need to be pulled back so they aren't just from the neck up and he should burn the car selfie. #5 is a great example of a decent looking guy with not great photos. Most guys are in this same position. If your dating profile photos aren't working for you, it is almost the photos and not because you aren't good looking enough.
Dating Profile Example #6
Headline: Here I am
Profile Text: Just looking to see who is out here
We are going to spend as much time on this profile as #6 spent writing it. He's just a guy who has an account set up so he can look for a hook-up when he's bored. There's nothing for us to fix because there is nothing actually here.
Photos
#6 has four photos. Two of them are selfies (one with no smile and a bad angle and the other with sunglasses). He's got a black and white photo of him looking away from the camera. This is designed to make him look cool, but it really just makes him look like he's trying to look cool. He's also got a mid-air jumping shot of him on a bridge. Mid-air jumping shots are on the list of cliched dating photos that make women shake their heads and move on to the next profile.
Dating Profile Example #7
Headline: Looking for that special someone
Profile Text: I like having going out a walk on the beach taking a nice girl out to dinner watch and watch a movie
#7 is sending mixed messages between his profile and his headline. In his headline, he says he's looking for someone special, but his profile sounds more like a generic personals ad from an old newspaper. Long walks on the beach are one of the oldest cliches in dating profiles. You never want to say anything like that. If you do love long walks on the beach, try this instead: talk about your favorite beach, why you like to go there and what makes that beach so special. You never have to say "long walks on the beach." The second problem here is that he uses the word "girl." No one on this or any other dating site is a girl. They are women. In fact, they are women who generally get annoyed when they are referred to as "girl".
There's so little to work with here that it's hard to give real advice, but #7 could easily improve this profile just by adding in details like we mentioned about his love of the beach or things like his favorite place to go out for dinner and an upcoming movie that he's looking forward to.
* NOTE – Movies are horrible first dates. You want to go somewhere that you will be able to talk and get to know each other. Sitting in a dark room for two hours is a wasted opportunity.

Photos
#7 has eight photos, but I would only recommend him keeping one of them. It is clear from the photos that #7 is a chef (something he should definitely talk about in his profile as women love a man who can cook). There is one photo here that shows him in the kitchen, from the waist up, looking happy and doing something he loves. That one is the keeper. The others all need to go in the trash. He's not smiling in half of his selfies, and the other half are just bad selfies. He's wearing a hat or a bandana in several photos and committing the cardinal sin of covering his mouth in another one. One of my big online dating photo tips for #7 would be to not include the photos of his children. Your dating profile should be just about you. You should be the one who is the focus of all of your photos. Also, you should always be careful about posting photos of a minor on a dating site. You never know who is trolling profiles looking for something they shouldn't be.
Dating Profile Example #8
Headline: Hi
Profile Text: "Simple kind of man!"
I guess one way to prove you are a simple kind of man is with a headline and profile that doesn't use more than five words. My best online dating advice to someone who wants to use a profile like this is to not bother with online dating. Even if you are just using your profile as a place from which you can search and message the people you like, women will be much less likely to respond to you when they see a profile that shows this little effort.

Photos
First thing's first, lose the shades. We've mentioned it in almost every profile we've talked about, but that's because it is very important! Second, and almost as important is that he might want to consider getting rid of the photo of him with the two hot cheerleaders. While it looks more like a fan photo than the kind of photo he might take with someone he was dating, it sets up the perception that #8 is still into the teenage boy idea of beauty and could be overly superficial. I like the photo of #8 with heavy equipment, but I wish it was a little zoomed in.
Dating Profile Example #9
Headline: JUST WATCHING…
Profile Text: ON HERE JUST TO CHECK IT OUT AND SEE WHAT IT DO..IF I SEE SOME1 WHO CATCHES MY ATTENTION ILL SPEAK…
This is not the first profile we've seen with text or a headline like this. It is a major turn-off to women. If you have the same online dating goals as #9, just keep your profile hidden so no one can see it. That way you can at least see if someone catches your eye without making an awful first impression with this kind of profile.

photos
Much like his profile, everything about #9's photos is wrong. Never use those cutesy Instagram or Snapchat filters. People want to see you, not what you'd like as a cat, a deer, or a creepy baby. As far as the rest of his photos go, he's wearing a hat and not smiling in all but one. The one where he isn't wearing a hat is the shot where he appears to have oiled up his body for a semi-obscured d!#* pic. To be honest, there is some value to photos like this. He's clearly just looking for a hook-up and photos like this are going to repel everyone with good judgment.
Dating Profile Example #10
Headline: always ready for an adventure, are you?
Profile Text: I am driving on pursuing my passions in life. Always striving to be the best version of myself. So when I find that ride or die kind of woman. It will be a truly great adventure.
#10's profile feels like he copied and pasted lines from other profiles that he liked and posted them as his own. His headline isn't awful, but it's very generic and cliched. If you are ready for an adventure, try to get a little more specific about it. If you can interest someone in your type of adventure, you are half way to building a connection. The rest of #10's profile is passionate, but it doesn't really say anything. He starts off with a typo that will turn off most female readers and then gives vague platitudes about striving to be his best and looking for a ride or die kind of woman. None of this means anything without any context. This is lacking serious amounts of detail. What is this best version that he's aiming towards, what drives him to be the best? What are some of these passions he's so driven towards? What does he want in a woman other than the fact that she must be ride or die? Give the reader something to connect with and you'll greatly increase your online dating success rate!

Photos
#10 only posted one photo. The problem with that is that people will assume that his profile is fake. As we mentioned before, you want someone between 4-7 dating profile photos. The good news here is that he's got a great smile. Unfortunately, it's way too close to the camera. He needs to back up so the shot covers everything from his sternum and up.
Dating Profile Example #11
Headline: Hi im boring
Profile Text: Im a looser,i suck.
It is pretty obvious that this is one of the worst-written online dating profiles we've seen today. It only has seven words and it has five typos. This is not usually the first profile that someone posts. It's the one they post after they've failed at online dating for long enough to get frustrated and a little jaded about the whole thing. If this happens to you, don't post a passive-aggressive profile like this. Instead, hide your profile and step away from online dating for at least two weeks. The biggest thing you need right now is time and some space to heal. Online dating can take a massive emotional toll on you when it isn't going well. If you don't take the time to care for yourself, you are going to end up like this guy.

Photos
If you recall, I actually kind of liked #10's primary dating photo. The carrots make for a good conversation starter, I would just like to see the photo taken with better light. The rest of the photos are all-too-close selfies that were mostly taken in front of blank walls. When you do this, it makes you look like a lonely man who never leaves his home. Get outside, make sure your photos have something more than a blank wall in the background. Ask friends to help take some pics of you. If all else fails, ask strangers. Most people will be happy to take a quick snap of you with your phone if you ask them nicely. If you are shy, just asking is a great way to step out of your comfort zone.
Dating Profile Example #12
Headline: Stellar Experiences Only
Profile Text: Just looking for a someone I can vibe with on a spiritual and intellectual level. Someone who can teach me new things and inspire. I'm pretty much a workaholic, so i don't have much free time. But I would definitely like to meet someone i can kick back with, drama /stress free (get enough of that at work)
#12 starts out with a bold, but decent headline. It's the kind of headling that will attract the right people and repel everyone else. Things start to go badly for him as soon as he starts his profile with the word "just". Starting a profile like that can seem too casual if not a little frustrated. He then goes on to say he's looking for someone he can vibe with. Just using the word vibe is enough to repel most women, but that could be in his favor here as it will only draw in the ones that would "vibe" with him. Things really take a turn for the worse when he mentions that he's a workaholic with no free time. No one wants to date someone who doesn't have any time for them. He then compounds the problem by saying he needs someone drama and stress-free because he gets enough of that at work. None of that belongs in a profile. He laid some great groundwork in the beginning but didn't build on it. By the end, he just sounds like a miserable person who needs to be rescued from a stressful life where no one can relate to him. That's not a date, that's a project.

Photos
All of these selfies are bad. At least one is a mirror selfie, one has no head, and one has him not smiling and in a hoodie. He needs to go outside, get out of that horrible fluorescent lighting, have someone else hold the camera, and smile. Three photos are not enough to get a sense of someone You need to make sure you've got your headshot, full-body shot, and 2-5 additional shots that give a sense of your personality. These photos seem to go out of the way to not give any sense of personality. When you make yourself that bland, you look like you won't be fun to spend time with.
There Are So Many More But These Dating Profile Examples Showcase The Things You Should Be Doing Better Now!
Wow! We just went through a lot of profiles. This is the first in a series of articles like this that will give you a professional dating profile writer's perspective on how to write an online dating profile that will work and how to avoid making the mistakes that most people seem to keep making on their dating profiles.
If you want to make sure that you don't end up dateless like these guys, check out our dating profile writing services or give me a call at 888-447-7634. Ask for Eric and I'll do everything I can to personally help you with your online dating profile.