Plenty of Fish (PlentyOfFish.com), or POF for short, is the biggest dating site out there, serving up more than 1.5 billion personal ads. That's right, billion. This is pretty amazing for any site but, even more so, when you consider that it was started in Marcus Frind's living room in Vancouver. 
The great news about POF is that you can find all kinds of potential matches there. The downside is that, because the site is free, you will find tons of examples that teach you exactly what not to do in an online dating profile. 
From the primary photos to how the profiles read, POF is a masterclass in what not to do. 
Let's breakdown what's happening on POF right now and I'll show you what you can do to make sure you actually end up with dates, unlike these guys!
*Note – To make this as real as possible, I just logged onto POF and did a random search. These are all real profiles. Some of these might be great profile examples, some of them might be horrible, but all of them will help you write a better dating profile yourself.
Now, if you really want a well-written dating profile that will lead to meeting people and giving great conversation starters you should let a professional write it for you. 
Check out our online dating profile writing service, that's perfect for POF, and boost your first dates exponentially.
Now, onto the examples from one of the most popular online dating sites, Plenty of Fish.
Ready to Stop Wondering What You're Doing Wrong and Start to Get First Dates? Click Here to Get the Help with Your Dating Profile That You Deserve. You're Worth Finding A Great Match!
A Picture is Worth A Thousand Words, Choose Your Main Photo Carefully
The picture you choose on dating sites and apps is a crucial cornerstone of the success of your online dating quest.
In POF, before a potential match sees your profile, she is going to see your thumbnail in her search. 
These are the first 12 guys who showed up in the search that I just ran. I've covered their eyes to protect their identities. I've also numbered them from 1-12 so we can go through the list of what makes some of these great dating photos and make others horrible.
Don't be afraid, I will break it down with a sense of humor and my dating coach hat firmly on my head.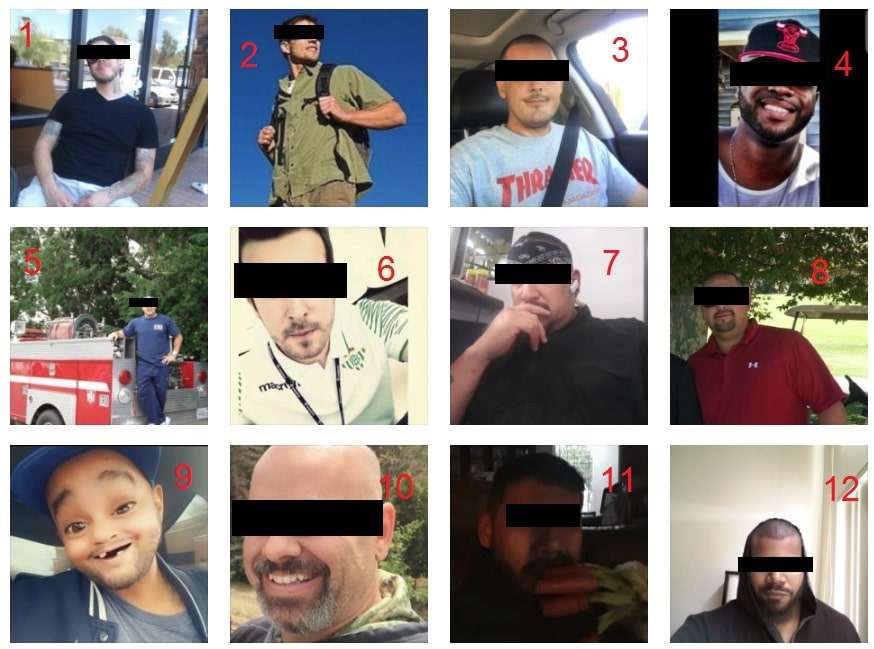 1: FAIL 
This is not a good first impression if you want someone to click on your profile. 
You can't see it, but #1 is wearing sunglasses. This makes you look aloof and unapproachable. His slouched posture also sends pretty bad signals to potential matches. 
#1 isn't all bad though. He's smiling in his photo and it isn't a selfie. The best online dating advice is it's really helpful if your main profile picture isn't a selfie.
It helps you get the camera far enough away so you don't look crazy in your photo. It also proves that you are not simply a floating head.
Also, the second-best of my online dating tips is, you NEED TO SMILE in your main dating photo. It makes people, especially women, feel more comfortable and makes you seem more approachable.
2: WIN 
While #2 is also wearing sunglasses, he's got a photo that is going to grab some interest. 
His photo tells a story about someone who likes the outdoors, probably likes to hike (doesn't just say it as most people do in their profiles), and he's active. 
It's not a selfie, so he's telling you that he's probably got friends. It is even OK that he's not really smiling, because the expression on his face adds to the narrative of the photo. 
He's created a unique thumbnail of an actual experience he had. This is a big plus on a dating app.
3: FAIL 
Here we have an example of the dreaded car-selfie.
A lot of people have tricked themselves into thinking car selfies are great because they offer good lighting. Sadly, they are still selfies and they almost always look bad. 
One of the big problems with selfies is seen in his smile… or lack of smile. When you have to focus on taking the photo, it pulls your focus away from being in the photo. 
As a result, you almost never look relaxed and your smile is never natural.
4: WIN 
I would generally never suggest wearing a hat in your main photo. It makes people think you are losing your hair and trying to cover it up. 
That being said, #4 has pulled off some great things in his photo. 
The biggest ways he comes through are with his smile, his relaxed eye contact, and by having the shot far enough back that it's just a photo of his head. There's a warm vibe to his photo that is going to make a lot of women want to see what he's got written. 
We'll get to that part in a bit…
Want to get to the better writing part now? Click here to find out how well-written profiles mean better matches and more quality dates
5: Fail 
The only people clicking on a profile based on this photo are people who love fire trucks. 
#5 is a great example of why you shouldn't use a full-body shot as your thumbnail photo. It makes you so small that people can't see your face. 
This doesn't cause people to click on you to see more, it causes them to be distracted by the next match, who they can see smiling in the next frame.
6: Fail 
Here is a photo that shows us several more ways that selfies can go wrong. 
Let's start with the angle. A lot of people like to hold the camera from above and look up at it. The problem is that it makes you look small. 
Try to keep your shot as close to straight-on as possible. You can't see his eyes, but they are intense… Way too intense. I'm going to give him the benefit of the doubt and say that it's probably because he is focused on trying to take the photo. 
You can see evidence of this in his mouth as well. His utter lack of a smile makes him look really unhappy. 
People don't click on unhappy.
7: Fail 
This photo tells the viewer that the guy in the shot is very low on confidence. 
The fact that he's covering his mouth and slouching paints a picture of a man who doesn't think very highly of himself. When you add on to that the fact that he's wearing a bandana and a Bluetooth earpiece, it paints a picture of someone who doesn't really care how he presents to others. 
Women don't expect you to step off the cover of GQ magazine, but they do want you to look like you don't smell like you've been working in a kitchen for the last 12 hours.
8: Fail 
As far as the photos that I wouldn't recommend, you could actually do a lot worse than this one, but there are still several reasons that I wouldn't suggest posting it. 
I like that he's smiling and dressed presentably, but he's wearing sunglasses and it is a photo where people are cropped out. I have a lot of clients tell me that they don't have other pictures of themselves. 
They tell me this while talking on their phones… which have built-in cameras. If you don't have good pictures. ask a friend to help you. If you aren't sure what types of photos to take, check out these articles that I've put together on how to take great dating profile photos. 
If you still feel stuck, give me a call at 888-447-7634 and I'll help you out.
9: Fail 
You may have noticed that this is the only photo where I didn't cover the guy's eyes. 
That's because he thought it would be cute to use a Snapchat filter. He was wrong. All he did was make himself look like a creepy baby and prevent people from having a chance to see if they'd be attracted to him. 
Men always complain to me about women who use filters on their photos. Don't be part of the problem, just post the photo of yourself.
10: Almost A Win 
This photo is almost great. Sure, it's a selfie, but he's looking in the right place and he's got a great smile. 
The one thing I'd change here is to just have him back up a little bit so we can see more than his head. If he pulled back enough so that the shot went half-way down his chest, it could be a great primary dating photo.
11: Failing With Style 
There are a lot of things that make this a bad photo. 
The guy isn't smiling, the image is really dark, and he looks unhappy. 
But, there is something to be said about those carrots. A lot of people aren't going to look at the pic long enough to realize he has a half-eaten bunch of carrots in front of his mouth, but the ones who do are probably going to click on him to find out more.
12: Fail 
Here is an example of a classic mirror selfie. 
Mirror selfies are never a good idea. Neither is wearing a hoodie in the first photo that people see of you. 
There's a good chance that he thinks the hoodie makes him look mysterious. It doesn't. It just makes him look like a guy who wants to look mysterious.
Make A Great First Impression By Using A Great Photo
Wow! This is my first time doing a post like this and I didn't expect it to run this long. 
We haven't even gotten into the meat of these guys' individual dating profiles and all of the mistakes they are making (there are many). 
We are going to talk about the rest of each of these guy's profile photos in a minute, but I just wanted to let you know that you don't have to worry about whether or not your dating profile photos are great or not. 
Every one of our dating profile writing services comes with lifetime photo reviews at no additional charge. 
That means you can always send me a photo you are thinking of posting on your profile and I'll get back to you personally to let you know if you should post it or burn it.
Let's continue this right now in…
Best Male POF Dating Profile Examples – What Works and What Doesn't? – Part 2!
Need help with your dating profile? 
Give me a call at 888-447-7634. 
Just choose option #1 and ask for Eric. 
You can also contact me here for more information about how I can help you stand out in the vast online dating world.